Orlando Trackless Train Rental. Rent a beautiful Orlando Trackless Train for your next party, grand opening company picnic, school fundraiser, holiday event or church function. This high quality trackless train is available in Orlando and the Central Florida area. This is an electric charged train, so you don't get the stinch and noise of the gas powered units offered in the area. Now Orlando has a safe train alternative to gas powered units, with smooth starts and stops as well as durablity. The craftmanship of the Orlando Trackless Train rental is superior quality. This is the nicest trackless train rental that money can buy. The worksmanship makes this product different from any other trackless train rental out there.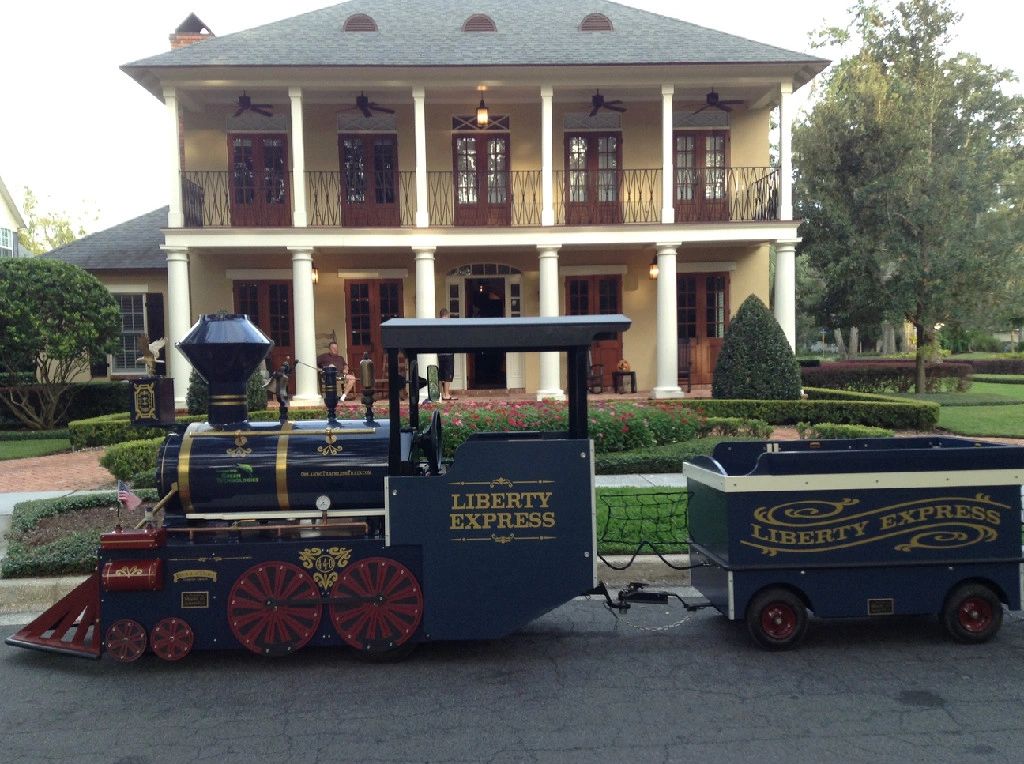 This rental comes with a total of four cars for children to ride in, and hence it has a capacity of 18 -24 children. Nonetheless, this trackless train rental can also support adults if they wish to ride with their younger children. Each car has a weight capacity of 500 pounds. If you are looking to have your event stick out, then we suggest renting our beautiful trackless train rental.

The Trackless train as the name says requires no tracks. The train can ride on cement, asphalt or pavement surfaces. The most ideal locations are parking lots and residential streets.

Do you want to make your child's birthday party special? All aboard the Orlando trackless train! A ride perfect for everyone from young kids to adults. Kids will love riding the trackless train as it chugs around taking them for a ride.




To protect your family and the integrity of our train and services, Orlando Trackless Train's Liberty Express is the Only OSHA Certified Train with Commercial Liability Insurance. Our train also has professional drivers and is delivered in a covered auto carrier and not a landscape trailer. We are more expensive for a reason...your safety and our service!

Please call or email with any questions or requests and we'll be glad to assist you anyway we can.
ORLANDO TRACKLESS TRAIN

407-478-1616

INFO@BIRCHMORE.COM

a Birchmore Group Company